ABOVE
I'm often sent copies of the work the children produce-it's great to see what they've taken in from my talks. The work is always backed up by a letter of praise from the teachers too!
Have a look on my testimonial page to see some of the comments we recieve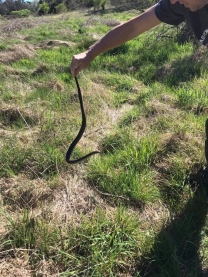 LEFT
My wife has been working a lot of extra shifts within her nursing career this year. The fruits of her labour has been a trip to see good friends in Australia! For me of course it was a chance to find some rather amazing wildlife! We saw Icons such as kangaroos, funnel web spiders and even an Echidna! But of course it was Australias venemous snakes I really wanted to find!
Here's an upland Copperhead I caught for a close look, before releasing it back to its morning sunbathing!